the flying pig wrote:
Me thinks you meant to post this "beauty" ....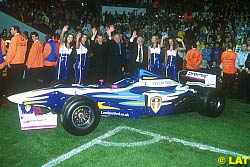 Thursday September 27th, 2001

Leeds United became the first British club to confirm their participation in the new Premier-1 Grand Prix series, scheduled to start in July 2002.

The British football (soccer) club unveiled a single-seater racing car in the club's colour yesterday, before a game against Maritimo. However, the club's designated driver is yet to be named.

Leeds United is the second club to confirm its participation in the new racing series, after Benfica last month announced it will participate in the rivaling F1 series, produced and planned by businessman Colin Sullivan. Thirty clubs across Europe are said to still be considering joining the motorsport series, with Chelsea and Newcastle United believed to be closest to providing other British involvement. Clubs are not being asked to invest, but are being offered around £700,000 in television revenues to put their colours on the grid.

Premier-1 is planned to feature 24 identically-built cars, each covered with livery of leading football clubs. Italian constructor Dallara have been commissioned to build the chassis; British engine builders Judd will supply V10 engines. The cars will run on slick tyres with estimated 750hp engine power.